Links
If you are in need of a volunteer position doing something you will love to do (make quilts for kids in a hospital)...check out this website. They also need people who can donate new kid appropriate fabric or money for supplies.
FindAQuiltPattern.com - Find the quilt pattern you are looking for.


Community of Needlework Artisans! Five generations of stitchers from Oregon to Colorado share their work, hints and tips, and favorite projects! A friendly community of needlework artisans. Bulletin boards, chat room, projects, files and fellowship. Lot's of great gift ideas!


Click on the lady bug for the link to bluebirdgardens.com, a site where you can purchase finished quilts made in the USA. One of their pages describes making cat cars (a fun activity to do with kids).

Fabric Trends Magazine Online features current issue highlights, magazine overview, back issues, quilting and fabric links, and much more!


Do you need need marbled fabric? This is the place!


Located in Kutztown, PA, specializing in cats. Our Patches came from One-By-One, as did four of my son and daughter-in-law's seven cats.



Pavelka Designs: Innovative clothes patterns to decorate with appliques!


Wow, what a site with links to all sorts of Arts and Music events, museums, galleries and artists' web sites in Pennsylvania and NYC!


Here you'll find one-of-a-kind applique, quilt patterns and quilts! From story quilts to pictorial quilts to traditional applique, they have something for every applique and quilting enthusiast!


Here you'll find articles on the wide range of crafts that use fabric in some form or another as well as book reviews and links to all sorts of fascinating websites, from quilting, dolls, and fabric artists to fabric painting, useful suppliers, and booksellers.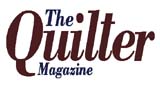 A fun place for quilters of all abilities to visit and exchange photos of quilts and ideas, and even subscribe to The Quilter Magazine.


Visit SewNet to find links to other companies and personal pages, chat live with other enthusiasts and professionals, post your items for sale or trade, get a chuckle over their Sewing Humor site, and check out their Tips pages.


The Wide World Quilting Page - The World's Oldest & Largest Quilting Site


Take a voyage to Planet Patchwork!

You can use their Easypunch electric embroidery tool to make great Critter Pattern Works embroideries! Barbara and Doug Keeling have just started another company called "Crafts to Do" (same website) in which Barbara sells her bizarre doll patterns (ladies with droopy boobies and crotchety old men, and overstuffed chairs for the dolls to sit in). Doug drew the faces for their patterns.


They design wonderful patterns for animal marionettes, and carry imported fabrics from Africa and Australia.


How many times have you started a project and run out of a particular fabric, and the store you bought it from is sold out? What can you do? Well, you can list your fabric on the Missing Fabrics page! This page is for all quilters, sewers and crafters out there who run into this problem at one time or another! Pat Knox runs this wonderful free service


Beautiful Imported Batiks


A humorous site run by Harold Reynolds featuring the Bad Kitty List, Bad Bunny List, Bad Ferret List, Bad Dog List, Bad Iguana List, Bad Bird List, The Cat List, along with many other worthwhile links. A great site to visit after a stressful day!
www.fatquartershop.com
Fat Quarter Bundles, Original Quilt Kits, Quilting Fabrics & FREE Quilt Patterns


SuperParrots.com is
your source for everything you need to care for, train and entertain your parrot.